I know, after my last post, I'm not even supposed to be here. I wasn't planning to, the idea was to keep my phone off all week. Or more.
But today is 5th February, and as close as that is to my exams, I have actually been waiting for this for, what, seven months? However long it's been since the end of July.
Today begins the (for me, and hopefully a lot more people too,) long-anticipated India vs South Africa women's ODI series. It's not inconsequential. The winners get to qualify directly for the 2021 Women's World Cup! No qualifiers cup like last year.
Unlike a lot of other cricket boards, the Indian board hadn't had any cricket lined up for ever national team for seven months. It's true, the girls have welcomed the period, there being a lot of fatigue and injuries in the team, but it does seem a bit too long. But they've put up with a lot more in past decades, so oh well.
In the meantime, we have had some pretty interesting clashes around the world, the women's Ashes and the New Zealand White Ferns triumphs in and away from home have been amazing to watch.
But when a team that was pretty dominant last year, with a very impressive win percentage throughout the calendar year, the World Cup finalists from the 2017 Cup, who lost the finals by but a margin of 9 runs, finally returns to the international circuit, don't you think it's a LITTLE exciting?
An opponent in the feisty South Africa, whom India only narrowly beat in all their encounters last year (save one), makes for a super-anticipated clash.
In all honesty, it's a real bad time to be out of the cricket loop, with so many interesting series coming up!
There are both, the men's and women's India-South Africa ODI series going on right now in South Africa, the Tri series in Australia between Australia, New Zealand and England, and the upcoming White Ferns-West Indies clash in March. (I spent all afternoon (Okay, more like ten minutes) syncing both the Black Caps and White Ferns' annual schedule, or as much as has been planned, to my phone.
It's an altogether different amount of time I spent trying to figure out how I'll be able to watch them all… not a good time to be having exams, I guess!
But New Zealand cricket is how I relax. I'm a fan, I'll find a way!)
Now, what I'm here to rant about.
This is such an anticlimax.
The only reason I switched on my phone today was to watch (parts of) the Ind-SA women's game.
I check all the usual sites, I look for unconventional sites, and I turn up blank.
I thought they were broadcasting.
After all the interest women's cricket garnered in the World Cup, it should've been a default next step.
But no, it's not being streamed, it's not being televised. Please tell me if I'm wrong, I wouldn't mind wasting a whole rant-post if I could still get the highlights.
Come on, if no one else will do it, I should! All I need now is a good camera and an intercontinental flight ticket. Asking for much?
But from my, ahem, sources (I'll always have those!) Indian captain Mithali Raj has won the toss and is batting first.
India are currently 135-1 in 31 overs, having lost opener Poonam Raut early on, for 19 runs. Ayabonga Khaka, who took her wicket,  is the only South African  bowler to have taken a wicket yet.
Opener Smriti Mandhana (of a hundred in India's WC opener against England fame) is going steady on 79 off 89 balls, with 8 boundaries to help along the way. Skipper Raj is at the other end on a 31 off 52, 2 neat fours.
Now wouldn't this make for a wonderful watch??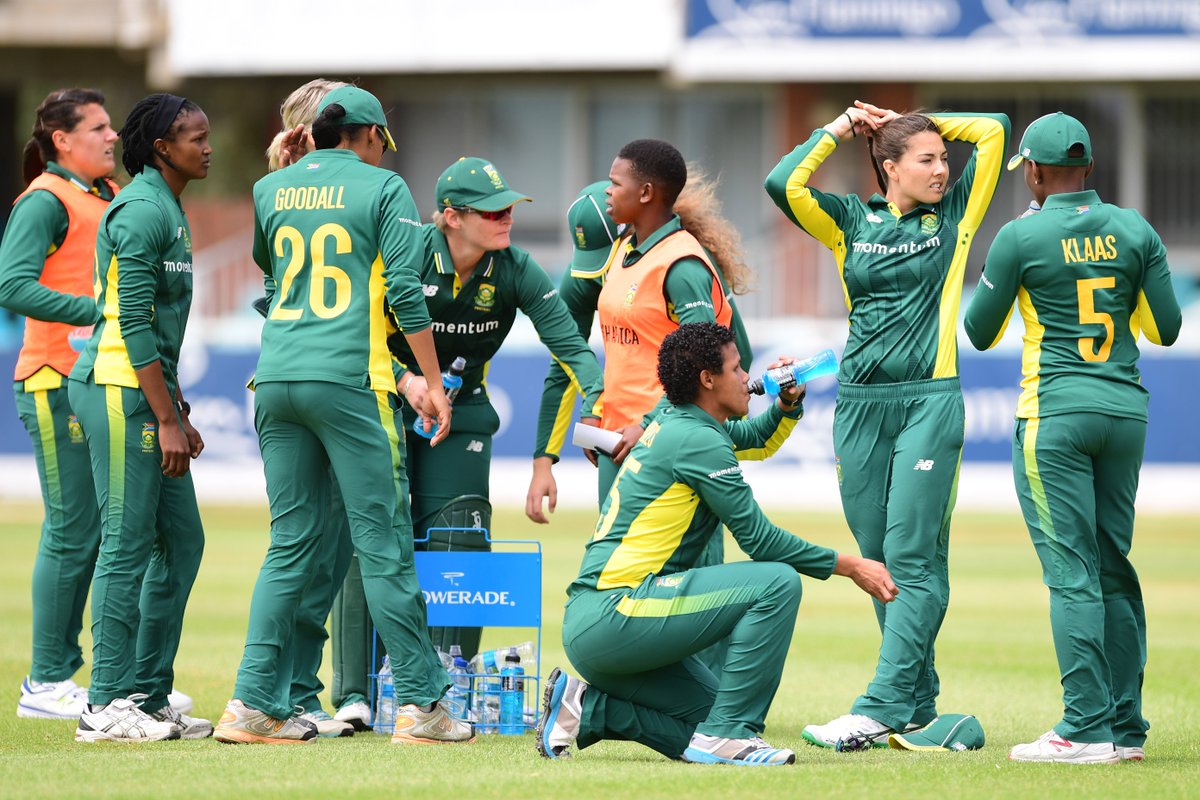 Just spoke of blessings, here comes a curse for the Indian team!
Mandhana's just gotten herself out, Khaka nailing her second victim of the day, and the game goes on!
(I'm happy, honestly, I am. I'm getting the game in some form. And I really am trying to study too. Just in five minutes.)